A fourth of the way into Batman: Digital Justice and I have to say, I have very little idea as to what is actually going on. I know that there are human cops, and robot cops. The robot cops are possibly going crazy. And the human cops are already crazy.
First, I made the terrible mistake of reading the introduction. There was a lot in it about how computers would completely change how we make comics. And they have. To some extent. There are WACOM tablets, and Photoshops, and various types of arty programs to aide you in your comic creation. But even with the 16 million colors and "hundreds" of progams they say Pepe had at his disposal in creating Digital Justice, none of them have a button that simply makes things look good. That still needs to come from the artist. And that does not happen here. 
It's easy to critique the art in this book. It's bad, simply put. I often wonder while trudging through it if computers in 199o were incapable of drawing straight lines or if the lines are supposed to be jaggy and distracting to remind me constantly of the book's computer origins, and the story's computer setting. Every panel, despite being created by programs using "3-D rendering" look remarkably flat. 
The story follows James Gordon, grandson of Commissioner Gordon, an angry cop who says variations of "damn" so often he once says it three times in a single panel.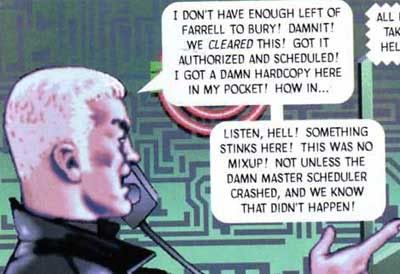 Officer Gordon is your stereotypical cop with a heart of gold who hates the rules and thinks he might be onto something big! Real big! He is naturally then pulled off the case and assigned to be a bodyguard for the pop star Gata. 
The future is well…a confusing place. A place where it is difficult to make words fit properly in speech bubbles. A place where sometimes it is hard to tell who is saying what. A place where a person might babble for up to four sentences with words that don't seem to mean anything, leaving you confused as to what just occurred but not really caring because why are you even reading this book.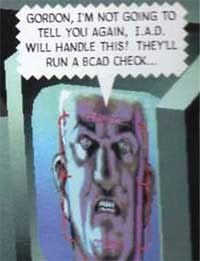 Huh?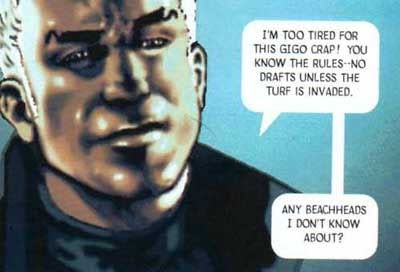 What?
Our hero, Gordon, discovers that the police robots or "servos" have been more and more frequently just freaking out and killing innocent people. One of the latest victim's DNA could not be identified and Gordon sensed something more was going on. He and his partner check the mainframe and wonder if someone, somehow has been messing internally with "the Net." 
This "Net" is referred to a few times during this first chunk of story, but it's all pretty vague. It runs the city? It has executives? The relations between it and other things and how it actually runs things are not really explored beyond that, at least at this point. I fear it may never be explained more.
Just as Gordon thinks he's about to make a break, Stereotypical Police Captain calls him into his office. This guy is slightly tubby, black thinning hair with gray sides, thick eyebrows, and suspenders. I think he might be fake. He is such a cliche that I think he might be fake. 
Part one ends with Gordon trying to get some money from a machine and kicking it. It threatens to MURDER HIM and he leaves as the machines cackle the night away.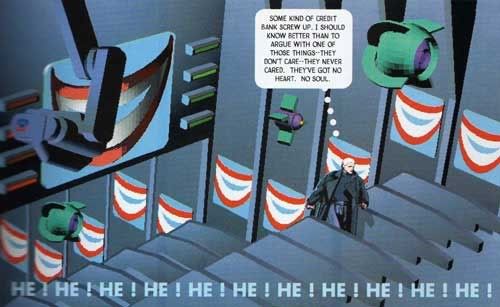 OOOOH WHAT DEVILISH TERRORS AWAIT IN PART TWO!
James Gordon "Damn" count: 12