For a long time now I've had a copy of Batman: Digital Justice on my shelf. I bought it as a joke from the comic book store in South Dakota that I had been going to for a few years, before I moved as far away as I could. The owner always lamented that no one would buy such a crappy book, so well, I did. 
I have not read it. 
I am now going to. 
And I of course, want you all to share in the experience!
How exciting!
Batman: Digital Justice was released by DC Comics in 1990. Even the Wiki for this book is bad:
"It was written and illustrated by Pepe Moreno entirely using computer hardware, software and techniques."
Yes yes, I use techniques in my writing too. 
There is only one part of this book I have ever read: the dust jacket. It has thus far contained enough gems to sustain me. Here are some important things to keep in mind while reading this book.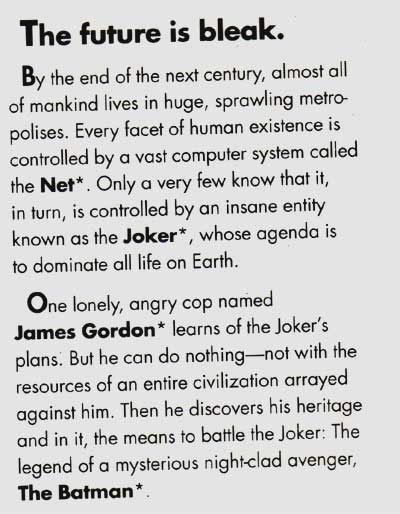 That sounds, um..interesting? No, terrible. And no, I don't know where all those asterisks go. There's asterisks everywhere! And nothing that they are referring back to! It's as though they are just there to help emphasize* things. Like putting them in bold* isn't enough. They need something else* there too. 
Carry on though, dustjacket.
These seems like a big mistake when putting out a book: saying that your book, your shitty shitty book is going to be just the best goddamn thing ever. Compared to Blade Runner? 1984? Brave New World? How? "These are things that are all books." 
The back flap makes me less worried about the actual content of the book though, and more amused at the 1990's fascinating technology used to create such a stunning masterpiece.
First, this book took more than a year to make on a computer. And, spoiler alert, it looks terrible. You aren't selling me on this idea at all, Pepe. I think I could make a better comic if I instead took that year and just learned to draw. 
It also says the lettering is supposed to duplicate traditional lettering. It too, looks like hell. 
Finally, a small section about our esteemed author.
The part that leaps out at me most is, of course, the very end.
What Pepe is into now is what we'll ALL be into in ten years.
I fondly remember the year 2000.
And it's shelves, packed with crappy computer generated comics.
Look it, goddammit, I'm getting all wistful now!